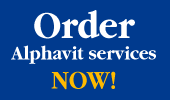 Alphavit Team


| | |
| --- | --- |
| | Alphavit International Expert Team |
Alphavit International Expert Team unites professionals with successful record of work within numerous donor projects in Central and Eastern Europe, Central Asia, Middle East and North Africa.
We recruit experts from European Union and USA, as well as from countries recipients of donor aid.
All our experts have practical working experience in the field, from short-term and long-term assignments to project director and monitoring team leader.
Key Qualifications:
International projects lobbing, pre-project studies and fact-finding missions
Knowledge of international regulations and experience in developing full scope of project-related documentation (technical proposal, inception report, current progress and final reports, and external monitoring documents)
Supervision and day-to-day management of donor projects and of monitoring programs
Project implementation, successful story missions in public and private sector within considerable variety of projects aimed at technical assistance to industrial development, economy restructuring and institutional reform in emerging markets
| | |
| --- | --- |
| | Alphavit Technical Programming Team |
Alphavit Technical Programming Team consists of young dynamic IT professionals, experienced in developing modern Corporate Information Systems and E-Business solutions.